Florida Healthcare Specialists (FHS) is a division practice of Florida Cancer Specialists & Research Institute (FCS), an independent oncology/hematology physician practice with locations throughout Florida.
Through its affiliation with FCS, Florida Healthcare Specialists is able to offer distinct advantages to our patients, including:
An environment that encourages communication and collaboration among physicians, resulting in the highest-quality care
Fully-integrated Electronic Medical Records (EMR) that allow better communication between patients and physicians – plus online services, such as scheduling appointments, reviewing lab results, etc.
Direct relationship, if necessary, with Florida's premiere oncology/hematology practice
Enhanced collaboration among FHS physicians provides comprehensive and efficient medical treatment to our patients. FHS services are designed to deliver of high-quality, patient-centered care.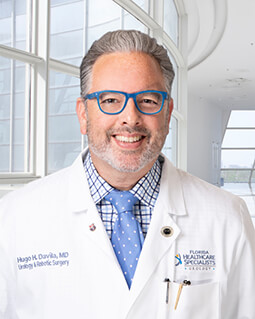 A board-certified urologist and Clinical Assistant Professor at Florida State University, College of Medicine, Dr. Hugo Davila completed his surgery and urology training at University of South Florida and Moffitt Cancer Center.  He currently practices at Florida Healthcare Specialists (an affiliate practice of Florida Cancer Specialists & Research Institute) and Cleveland Clinic Indian River Hospital.
Dr. Davila is a leading physician researcher, having previously completed clinical studies on fibrosis, aging and nitric oxide, which were published in prestigious journals, such as Biology of Reproduction, Cardiovascular Research, Urology and British Journal of Urology.
Benign Prostatic Hyperplasia (BPH) / Enlarged Prostate
Next Webinar: Thursday, January 19 at 6 p.m.
If you're experiencing BPH symptoms, you're not alone. BPH affects about 50% of men by age 60, and up to 90% of men by age 85. Treatment options range from behavior modification to medications, minimally invasive procedures, and surgery. Which is right for you depends on the amount of discomfort you're in, your age, health, the size of your prostate and your post-procedure expectations. If you suffer from these symptoms or know someone who does, we encourage you to join this webinar to learn more about treatment options, including Rezūm Water Vapor Therapy which can be done in office.